Rides at Disney World that Might be Skipped
SKIPPABLE DISNEY WORLD RIDES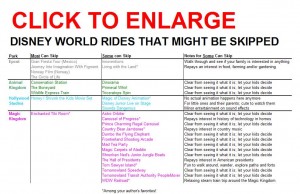 Every ride at Walt Disney World is worth trying.
But not at the cost of your sanity.
If your pace it getting too intense–or you just need to cut some time out of your vacation–the thumbnail (click to open) presents a few rides that almost no one will regret missing, and a longer list of rides that appeal to some and not to others, with notes about to whom these would most appeal.
(See the Comprehensive Guide to Rides for a view of rides that includes not just skippable rides but also favorites by age group.
ITINERARY LINKS
LINKS FOR HOW OLD/TALL YOUR KIDS SHOULD BE
RELATED STUFF