The New Fall Resort Price Season at Walt Disney World
By Dave Shute
THE NEW FALL PRICE SEASON AT WALT DISNEY WORLD
For 2011, Walt Disney World has made significant changes to the ways it increases and lowers prices at its resort hotels.
These changes have been continued in Disney's 2012 price seasons.
These include
A new second value season with slightly higher prices than the first value season
A new second regular season with slightly higher prices than the first regular season, and
A totally new season—the "Fall" season
THE FALL SEASON AT WALT DISNEY WORLD
At the moderate and value resorts, the new fall season covers the period from October through mid-December.  At the deluxes, it begins a bit later.
This means it covers the period that used to be priced both as "regular" and "value" seasons.
In general, the new fall prices are lower than the 2010 regular season prices, but higher than the 2010 value season prices.
For example, late October weekday prices went down from $105 to $95 at value resorts, $170 to $164 at the moderates, and $425 to $415 at the Polynesian
In contrast, early December weekday prices went up from $82 to $95 at the values, $149 to $164 at the moderates, and from $365 to $415 at the Polynesian
(All prices for the least expensive rooms, pre-tax)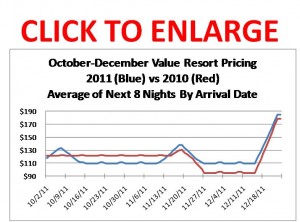 The overall effect is a distinct increase in prices during what used to be one of the three lowest-priced periods of the year—the period after Thanksgiving, but before Christmas.
Moderate prices during this period are up 10% compared to 2010, and deluxe and value prices around 15%.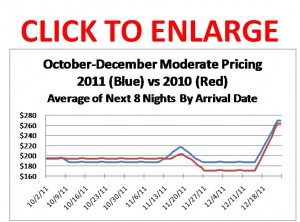 Paired with this is some reduction in October and November costs.
Because of new weekend and holiday upcharges, and differences in the date the fall season starts, the reductions vary by date and resort type.
The reductions are most distinct in the value resorts (above) and have some effect in the moderates.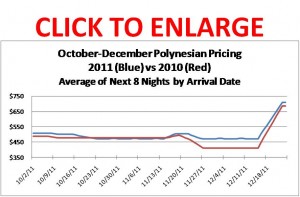 Using the Polynesian resort as a marker of the deluxes, October and November price reductions are almost invisible.
RELATED STUFF