Review: Disney's Saratoga Springs Resort and Spa
OVERVIEW: DISNEY'S SARATOGA SPRINGS RESORT AND SPA FOR FIRST TIME VISITORS
Disney's Saratoga Springs Resort and Spa is a wonderful place for returning visitors to Walt Disney World to stay. However, for first-time visitors, it ranks at the bottom of the Disney Vacation Club resorts.
THE DISNEY VACATION CLUB RESORTS
You can have a spectacular visit at any Walt Disney World resort. However, this site recommends that first time visitors to Walt Disney World avoid the Disney Vacation Club resorts, while noting that these resorts are wonderful for visits after the first. (You can find extensive detail on the DVC resorts here.)
The recommendation comes from the simple fact that the distinguishing feature of these resorts–extra space and full kitchens–will not be of much value to first-time visitors following one of the itineraries on this site, as they won't be used much.
That said, the Disney Vacation Club resorts represent more than 10% of Walt Disney World's total rooms, and are very appropriate for first time visitors with large families, needing extra sleeping spaces, or looking for a more comfortable place to stay.
Because of this, I'm providing a series of up-to-date reviews as I revisit these resorts.
DISNEY'S SARATOGA SPRINGS RESORT AND SPA
(Note: this review focuses on the main Saratoga Springs resort, not the Treehouses.  For the Treehouses, see this as well.)
Resorts are ranked on this site for first time visitors based first on their kid appeal, and then on their convenience.
On this basis, Disney's Saratoga Springs Resort and Spa comes at the bottom of the Disney Vacation Club resorts. (See this for resort rankings.)
Kid Appeal. While quite charming to adults, Saratoga Springs has no real kid appeal compared to alternatives like the Villas at Disney's Wilderness Lodge and the Animal Kingdom Lodge.
Convenience. Saratoga Springs is not as isolated as it is sometimes described to be–it's not far from Epcot, for example. That said, its distance, sprawling layout, and multiple bus stops make it the least convenient of the Walt Disney World resorts.
OTHER DISTINCTIVE FEATURES OF SARATOGA SPRINGS RESORT AND SPA
Saratoga Springs has a number of very strong positives.
First is value for money.  While rooms are small compared to other Disney Vacation Club resort options, it is typically among the lowest cost options of all the DVC resorts.
A second positive of Saratoga Springs–one that it shares with Old Key West–is that because of the "single-sided" building layout that both of these resorts have, there are no bad views. Views at Saratoga Springs can be of water, trees, or golf courses–but not parking lots or the backs of buildings.
Third, the resort is the closest of all of the Walt Disney World resorts to Downtown Disney, and the only one from which one can walk to it.  (Boat service is also available.)
Fourth, it contains the best spa at Walt Disney World–a spa commonly ranked among the top five resort spas in the country.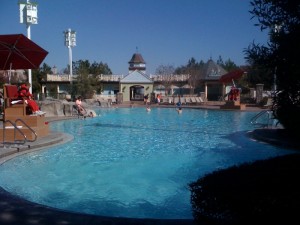 Finally it has a couple of great pools–the main themed pool, High Rock Spring pool, near the Springs section, and the best second-best pool at Walt Disney World, the Grandstand pool in the Grandstand Section. 
Saratoga Springs also has some distinctive negatives.
It is quite sprawling.
As a result, only a few buildings–specifically those in the Springs and Grandstand sections–are a quick walk to the main pool, shops, and restaurant, and many–specifically those in the Carousel, Paddock, Congress Park, and Treehouses sections–are quite a hike. (See below for a map.)
Furnishings and finishes are nice but overfill the small rooms.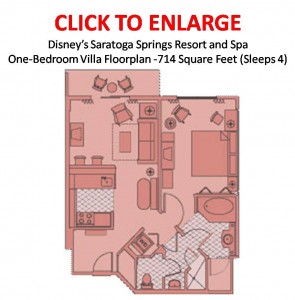 In particular, the living areas in the one and two-bedroom villas are so small that if the couch is unfolded for use as a bed, the rest of the room becomes unusable. 
(See the top left of the one-bedroom floorplan at right.)
These rooms seem to represent a nadir in Disney's DVC design efforts. 
The first Disney Vacation Club resort to have been built, Old Key West, has wonderfully large living/kitchen/dining areas. 
Apparently, larger than they needed to be, as Disney in its next DVC complexes kept shrinking this area.
At a certain point, it discovered that perhaps it had gone too far.  This point was Saratoga Springs. It has since, in its more recent construction, been expanding the areas of these spaces.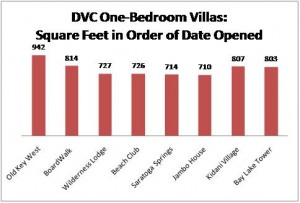 See the graphic (click it to enlarge it) for the square footage of Walt Disney World one-bedroom villas arrayed in order of construction.
 Other DVC facilities are more kid appealing, more convenient, more livable…or all three!  See this for an example of a more recent DVC floorplan at Kidani Village at the Animal Kingdom Lodge.
BEST AND WORST ROOMS AT DISNEY'S SARATOGA SPRINGS RESORT AND SPA
Because of its size, and the scattering of its building areas in a 200+ acre space, there is a real difference in the convenience of the buildings.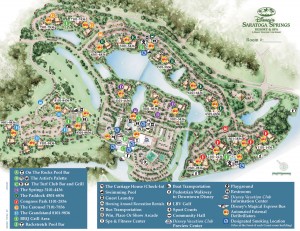 The Springs buildings are the most convenient–closest to the main poll, restaurants, and spa.  The Grandstand area is your next best choice. See map.
Ask for a second story or higher room in the Springs buildings, or if unavailable, the Grandstand buildings. (Second floor or higher so that you get a balcony, rather than a patio.)
Avoid the Carousel and Paddock areas–they can be remarkably distant, and abut a road with substantial bus traffic to Downtown Disney.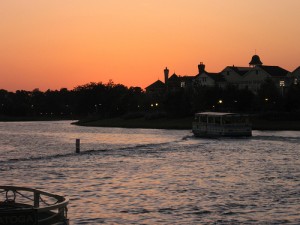 The Congress Park area is also distant, but has a wonderful view of Downtown Disney, and is within the easiest walking distance of it.
The Treehouses are so far, and so different, that they would be another resort if there were not only 60 of them. 
Because of this, they have their own review here.
BEST FOR:
Larger families, families seeking a bit of extra privacy or more beds, families looking for a more comfortable place to stay, families with a car (so they can overcome the inconvenience and sprawl of the resort), families interested in the spa or Downtown Disney.
WORST FOR:
Families looking for a kid-appealing or convenient resort; families without a car, families that plan to use the couch in the one and two-bedroom villas for sleeping.
This reviewcontinues here.
LINKS FOR WHERE TO STAY AT DISNEY WORLD
RELATED STUFF