To-Do List: 6 Night Walt Disney World Itinerary, Sunday Arrival
TO-DO LIST: SIX NIGHT AUTUMN-WINTER-SPRING ITINERARY, SUNDAY ARRIVAL
A. MORE THAN 180 DAYS BEFORE YOUR PLANNED ARRIVAL DATE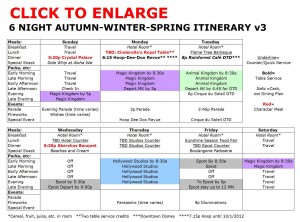 1. Confirm your budget, planned dates, kids' development paths and heights, and your transportation choice and its availability for your planned dates.
2. Make your plane reservations, if flying. Make any other needed transportation arrangements.
3. Set up your hotel and tickets. Call 407-939-7675 (preferred, because this allows you to tell the reservationist which building at your resort you wish to be in, which the new WDW website no longer allows you to do), or click here to use Disney's online system.
When the page opens, click "Book Vacation Packages"
Add your dates, party size and age of your kids
Set up your basic package:

Click "Advanced Search"
Click "I know the Resort I want."
In the drop down menu that appears, click to open, and scroll to pick your hotel
Click "Dining Plan"
Click "Continue"
Wait

Fix the options–a page will open that has selected several options for you, most of them wrong. You will need to fix each section, and update the sections as you go.

At the top of the page you will be put into the most expensive room. Click the button for the least expensive instead. (The views aren't worth it for first time family visitors, except Animal Kingdom Lodge visitors should always pick a Savannah view)
Click "Update" and wait
Click, in the "Park Tickets and Options" section, the button in the upper right that says "Open."
If not already set at 7, set the number of days in your tickets to 7
Unclick both the "Park Hopper" box and the "Water Parks and More" box
Click "Update" and wait

Click "Ground Transportation" and when it opens, click Disney's Magical Express, and add your airline info
Click "Continue" and wait
Click "Select this Offer" at the bottom of the page and wait
When the pricing pages shows up, unclick Trip Insurance (if offered)
In the "Special Room Requests" section, click to open, then click "Refrigerator"
If you are on the phone, tell the reservationist what room you want

If a Polynesian guest, ask for a room on the third floor (quieter) in Rapa Nui or Tahiti. (These are 2 of the only 3 buildings with both the largest rooms and balconies on all floors, and are the 2 buildings closest to the Epcot monorail. You are in fact so close to TTC that you can take the express monorail home from the Magic Kingdom–much faster than the resort monorail.)
If a Pop Century Guest, ask for a room on the 4th floor (quieter) in the 1970s area. (This is the only building group at Pop Century that does not surround a pool, so it will be quieter at night.)

Complete the transaction with your credit card.
B. 181 DAYS BEFORE YOUR ARRIVAL DATE
Go to the online restaurant reservations page here, set up an account if you don't already have one, and practice trying to reserve restaurants.
This may well drive you crazy, but the site works better than it used to…and is likely the only way you can get your Cindy reservations done! (as the site opens up a new reservable day at 6a, whereas the phone reservation line opens at 7a).
Collect your restaurant reservations together. You will want to do them online in order of hardest to reserve first. This is how they are listed below.
C. EXACTLY 6am EST, EXACTLY 180 DAYS BEFORE YOUR ARRIVAL DATE
(For an 180 day calendar, see this).
1. Be on the restaurant website here by at least 5:50am EST, and have your Cindy reservation all set up on the page. Keep refreshing, as you will be let in as soon as Disney's system decides it is 6a.

Make as many of the following as you have patience for (try to get through at least Akershus), in the exact order listed:
Cinderella's Royal Table Lunch (dining plan, two credits): Monday at 11a or later if you can; earlier than 11 only if your sole option
Hoop-Dee-Doo Revue (dining plan, two credits): Monday 6:15p show. (7.15 until 10/1/2102) The other two times don't work well.
Crystal Palace (dining plan): Sunday 5.30p if you can; earlier if you must, but make sure your arrival plans fit this—not earlier than 4 hours after your scheduled touchdown at the airport
Akershus Banquet (dining plan): Wednesday 6:30p if you can, earlier ok, but cuts into your nap and pool time, no later than 7:30p.
Downtown Disney's Rainforest Café (NOT the Rainforest café at the Animal Kingdom!!) (cash): Tuesday 8p if you can; no earlier, but later is ok.
For those you don't make online, make them by calling call (407) WDW-DINE (939-3463)
2. Order your Cirque du Soleil tickets (Category 2) for the 6p show on Tuesday at this site (cash). (For arrival dates of May 2, 9, or 23 2010, make this for Tuesday)
D. CHECK THIS SITE IN THE MIDDLE OF EVERY FOLLOWING MONTH FOR ANY CHANGES.
E. NOTES ON PACKING ETC. BEFORE YOU LEAVE
1. Check in online at the link you can find on this page
2. If you use Disney's Magical Express, you do not need to collect your bags at the Orlando airport. Disney will get them for you and, eventually, deliver them directly to your room. Your bags may arrive hours after you do; so, depending on the weather forecasts, have a carry-on with an appropriate change of clothes for Orlando weather on Saturday, as you will almost certainly go to Epcot on Saturday before your checked bags arrive.
3. Follow the instructions in the Magical Express packet you will receive in the mail regarding both tagging your bags pre-departure, and where to go at the Orlando airport to find your transport to your resort.
4. Bring a copy of your room reservation, confirmation numbers (such as for the Gospel Brunch) and any tickets for special events you may have received in the mail.
5. Pack breakfast utensils, as they are not always available in the gift shop: bowls, spoons, napkins
6. When you arrive at the hotel, look for the special "On-line Check-in" line, and get into it.
LINKS FOR THIS ITINERARY
Summary
To-Do List
First Sunday
Monday
Tuesday
Wednesday
Thursday
Friday
Saturday
ITINERARY LINKS
RELATED STUFF