Seven Night Walt Disney World Autumn-Winter-Spring Itinerary, Sunday Arrival
OVERVIEW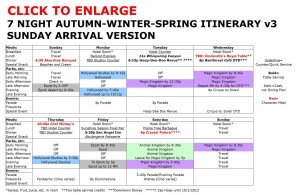 This itinerary is a variant of the standard Autumn-Winter-Spring itinerary, but one day shorter, and with a Sunday arrival. See this for another seven night variant, but with a Saturday arrival.
Click the image to open it; when open, keep clicking to enlarge it more.
It's a day shorter from eliminating half of a day off, and the last day visit to the Gospel Brunch in Downtown Disney. (See How Long to Stay for more on why eight nights is better than seven.)
It can be used any week that the standard Autumn-Winter-Spring itinerary fully works.  See this page for weeks that itinerary can be used. If there's words like "but see this for changes," use the comment form below to ask how to adapt it.
LINKS FOR THIS ITINERARY
Summary
To-Do List
First Sunday
Monday
Tuesday
Wednesday
Thursday
Friday
Saturday
Second Sunday
ITINERARY LINKS
RELATED STUFF